The Royal Manticoran Navy is the official Honor Harrington Fan Association, who celebrate the work of David Weber and the universe he has created in his Honor Harrington books.
Timber Lupindo
Timber Lupindo is a native of the Unicorn Asteroid Belt. He was a machinist and small-craft pilot on a Hauptmann Cartel freighter that was caught smuggling Kodiak Maximus hides. Lupindo lost everything and saw the RMN as an opportunity to earn it back. After retiring from the RMN he hopes to become an officer on an interstellar freighter.
Accomplishments
Timber Lupindo joined TRMN at WorldCon in San Jose in August 2018. By October he had completed the BuTrain requirements for Senior Chief Petty Officer and the Coxswain rating. Timber Lupindo is Chief Coxswain aboard the HMS Medusa, a superdreadnought in the Tenth Fleet, which patrols San Francisco and Oakland.. 
In October, 2018 he drove 1300 miles to Denver to participate in MileHiCon 49 where, in Enlisted Uniform, he volunteered time at the HMS Wolf's recruiting table.
In November, 2018 he earned his Enlisted Space Warfare Pin.
In December, 2018, upon fixing the dreaded SWP Bug in MEDUSA, he received a brevet promotion to Chief Petty Officer and was assigned to MEDUSA as a software developer. There he set up the testing infrastructure for the database back-end testing and web-based front-end testing, and wrote basic tests for use as examples for others to use as patterns for writing more tests.
In May, 2019 at Baycon he led a TRMN discussion panel on Literary Tropes in Space Opera and assisted in an SFI trivia game panel.
In August 2019 at a showing of The Wrath of Khan at the Castro Theater in San Francisco, he entered the Costume Contest and received a personal compliment on his uniform from Producer Robert Sallin.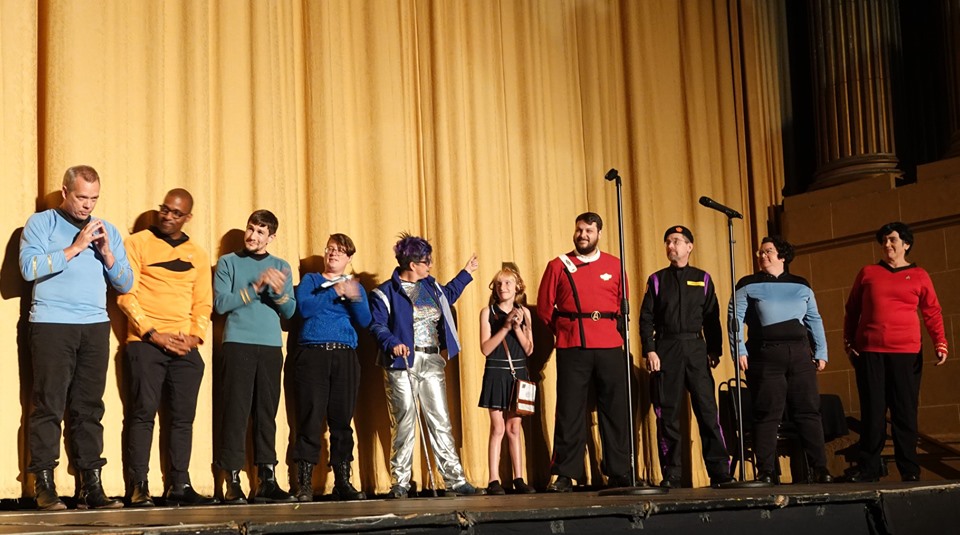 Timber has been active in chapter meetings, gaming activities, and costuming.
Publications for TRMN Members
Install Artemis with Play on Mac [TRMN Forums]
How to open your firewall to permit outside users to see your Artemis Bridge Simulator server [TRMN Forums]
Working Uniform Tutorial II: Shoulder Arcs, Leg Stripes Cargo Pockets [PDF this site]
Star Knight-class bridge screen backgrounds for video meeting services such as Zoom, for anyone in TRMN to use [PNG files this site]
Ribbon Rack